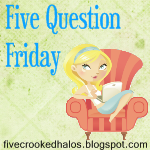 Get to know Shannon and Kim a little bit more with this fun 5 Question Friday brought to you by Mama M over at My Little Life.
Questions for Friday, April 23rd:
1. What was the first car you owned?
I had a Pontiac Catalina circa 76 I believe.  ~Kim

I had a 1986 Ford Escort POS~Shannon
2. What song are you embarrassed to know the lyrics to?
The Best of Both Worlds -Hannah Montana   ~Kim

Womanizer by Brittney Spears ~Shannon
3. Have you ever had stitches?
Nope!  ~Kim

Yep, Above my Rt eye, Back of my Head and the Bottom of my Left foot~Shannon
4. What was your first job?
I worked at Hastings Books and Music.  ~Kim

Don's Port Marina, worked as a Dock service girl (filled boats with gas)~Shannon
5. Who is your favorite Sesame Street character?
Love Ernie with Grover being a close second!  ~Kim

Snuffalupagus ~Shannon