The Fantasy YA lit genre has exploded in the last couple of years, you can't go into a bookstore now without new books on the shelves.  What was a one row section is now about a 6 row section in my Barnes and Noble and has required a whole section in my local Borders.
There have been several new releases for May in this Genre and Kim and I are eager to read them but these two seem to interest me the most, Kim can add her most wanted to the list if she likes.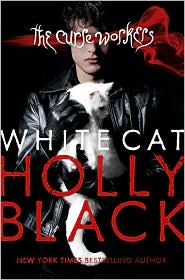 White Cat (The Curse Worker Series #1)
By Holly Black
Synopsis
Cassel comes from a family of curse workers — people who have the power to change your emotions, your memories, your luck, by the slightest touch of their hands. And since curse work is illegal, they're all mobsters, or con artists. Except for Cassel. He hasn't got the magic touch, so he's an outsider, the straight kid in a crooked family. You just have to ignore one small detail — he killed his best friend, Lila, three years ago.
Ever since, Cassel has carefully built up a façade of normalcy, blending into the crowd. But his façade starts crumbling when he starts sleepwalking, propelled into the night by terrifying dreams about a white cat that wants to tell him something. He's noticing other disturbing things, too, including the strange behavior of his two brothers. They are keeping secrets from him, caught up in a mysterious plot. As Cassel begins to suspect he's part of a huge con game, he also wonders what really happened to Lila. Could she still be alive? To find that out, Cassel will have to out-con the conmen.
Holly Black has created a gripping tale of mobsters and dark magic where a single touch can bring love — or death — and your dreams might be more real than your memories.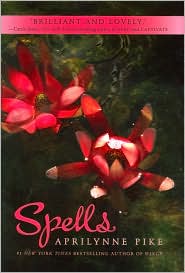 Spells by Aprilynne Pike
Still reeling from the discovery of her faerie origins, Laurel is completely immersed in the faerie realm. To learn more about what being a faerie means, she has to live in Avalon, apart from her boyfriend and family. How will she be able to keep them safe from the continuing troubles of the gateway? This is the sequel to the bestselling WINGS.
Catch ya in the lounge...